In 1763, Calverton was the scene of a repulsive spectacle, which brought villagers flocking in crowds to a surgeon's house to indulge their morbid curiosity. A young girl, Elizabeth Morton, just 15 years of age, was hung on Gallows Hill, Nottingham, on the 6th of April 1763. This was for the murder of the infant child of her master John Oliver, a farmer of Walkeringham. In her confession the girl, a domestic in service to John Oliver, reported that she was incited to the crime by a "gentleman in black", who came to her at night and told her she must murder two of her master's children. She could not feel easy, she said, till she had done the terrible deed.​

She accordingly murdered one child and attempted the life of the other. Executions being a much favoured entertainment of the time, Elizabeth Morton was hung from the gallows as an Easter spectacle. Her body was dissected by a surgeon at Calverton, and the public inspection that followed awakened all the curiosity of the surrounding villagers.


Other Hangings: 

Such were the huge assemblies at public executions, that on August the 8th 1844 thirteen people died and more than a hundred were seriously injured in the crush of 'countless thousands' amassing to witness the hanging in front of the County Hall of one William Saville, 29, a labourer of Arnold who murdered his wife and children with a razor in Colwick Wood.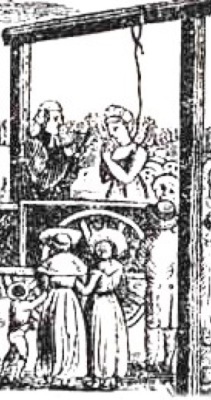 The last execution at Gallows Hill, which was situated near the present junction of Mansfield Road and Forest Road, was that of William Wells in 1827. The gallows were removed to Shire Hall in 1831. They had been in use from before 1558. The delivery of bodies of murderers, after execution, to the surgeons for dissection, was required by an Act of Parliament, passed in 1752.


Note: